Since February 2017, Zelenskyi flew 13 times to the cities where oligarch Kolomoiskyi lives.
During past two years Volodymyr Zelenskyi flew to Geneva at least eleven times when Igor Kolomoisky lived there. When the oligarch moved to Israel in summer 2018, Zelenskyi flew to Tel Aviv twice. Zelenskyi was accompanied by the oligarch's attorney Andriy Bogdan every second trip. The latter eventually became the Chief Legal Advisor to Zelensky's presidential election campaign. This is reported in the investigative program Schemes: Corruption in Detail (joint project of Radio Svoboda and TV channel UA:Pershyi).
So, Zelenskyi flew to Geneva in February, April, November and December 2017, and then in January, February (twice), March, April (twice), and in June 2018. Andriy Bohdan flew with him during five of these trips.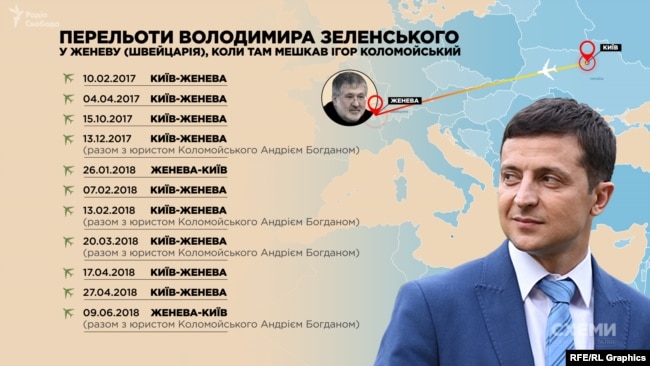 In general, Zelenskyi flew to Geneva at least 11 times, when Kolomoiskyi lived there
When Igor Kolomoiskyi moved to Israel at the end of summer 2018, Zelenskyi flew twice to Tel Aviv. He was also accompanied by Andriy Bogdan in November and December 2018. During the trip in December Ivan Bakanov, the head of the party Sluga Narodu, joined them also.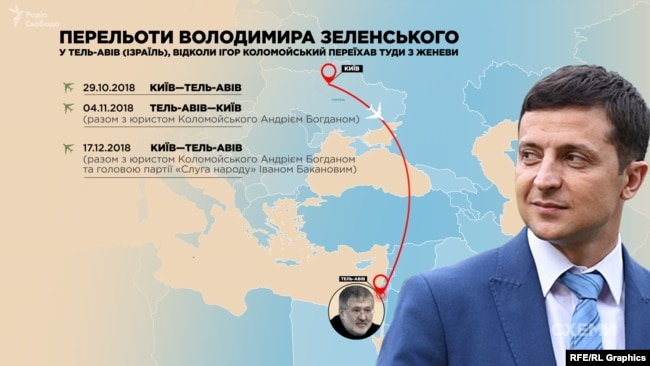 When Kolomoiskyi moved to Israel, Zelenskyi flew to Tel Aviv twice
Journalists also state that during this time Zelenskyi repeatedly flew on private jets together with business partners of the oligarch, namely Gennadiy Bogolyubov, brothers Igor and Grygoriy Surkis, Timur Mindich.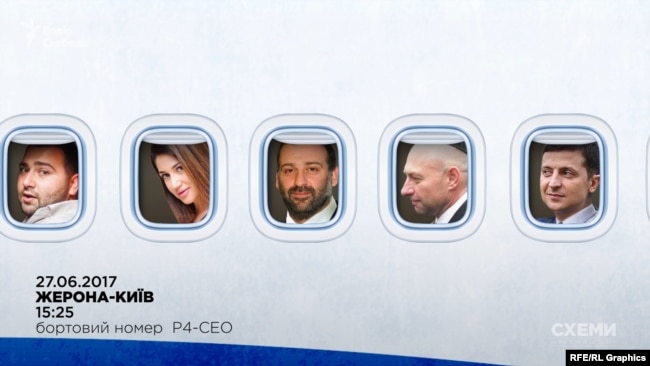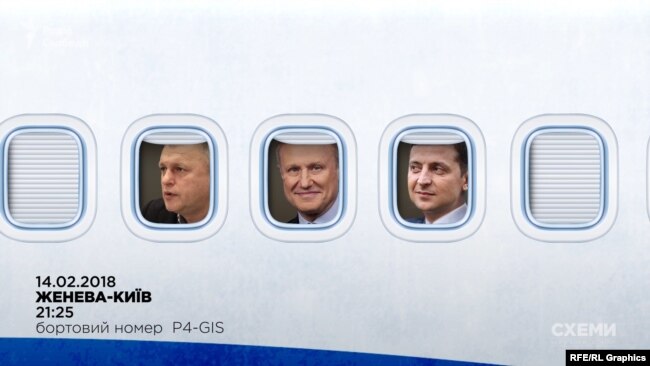 At first, the oligarch Igor Kolomoiskyi, in the telephone comment to Schemes, stated that Zelenskyi indeed had flown to his birthday in Geneva in February 2018. When we asked whether this was their last meeting, the oligarch said: "I think, yes. When you start asking questions as the investigator, I start to worry. Well, maybe we met somewhere, but who knows. But we didn't have the appointed meetings. Moreover, we understand that political story has already begun, so we do not need all those connections that will discredit him".
Andriy Bogdan refused to speak about reasons for visiting Geneva and Tel Aviv with Zelenskyi, referring to the fact that this is "his private life".
We were not able to receive explanation from Zelenskyi about reasons for frequent flights to Tel Aviv and Geneva with the oligarch's attorney. In recent days he did not appear in public, he did not answer journalists' calls. And his headquarter left Schemes' request about comments unanswered.
On December 31, 2018, Volodymyr Zelenskyi, the actor and co-founder of Kvartal 95 Studio, publicly announced that he would take part in next presidential elections in Ukraine.
The party Sluga Narodu was registered under this name at the end of 2017.
by Skhemy (Schemes), a joint project by RFE/ RL's Ukrainian Service and Ukraine's UA:Pershy television