Schemes investigated that the competition to the new agency is non-transparent and noncompetitive.
Original: https://www.radiosvoboda.org/a/schemes/29423780.html
The State Bureau of Investigations (SBI) in Ukraine should become an analogue of American FBI. The new agency will investigate crimes committed by officials, namely politically exposed persons, judges, former Presidents.
The SBI has to start its work in September, but it still does not have its own premises, and key employees are not appointed.
The recruitment is ongoing these summer days for various positions at the bureau, including the managerial.
However, during interviews candidates are not asked about the origin of assets and "dark spots" in biography. Also, before voting for the leaders of the SBI, media published the list of finalists. This might indicate that the result is predetermined, and the selection panel is not independent.
"List of Sixteen"
On July 17, 2018, Ukrayinska Pravda published a list of 21 candidates with indicated positions that allegedly have to win leading positions in the State Bureau of Investigations. On the next day, July 18, the selection panel for the positions to the State Bureau of Investigations determines the winners. Among elected are 16 persons from the list which has been previously published in the media.
How can you explain that most of winners' names have been known before voting? Does the publication of such list mean that results of the competition have been determined in advance?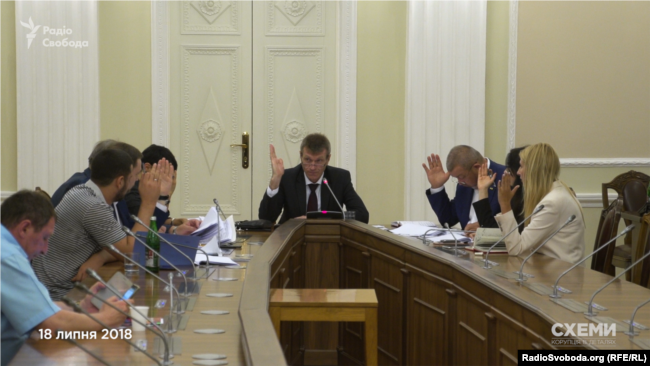 The Head of selection panel, Roman Maidanyk, stated that he did not plan to investigate how it happened that members of panel and he himself voted almost according to the list, which was published in the media earlier.
"You can [give – ed.] different explanations … It might be an analytical approach. I repeat, [the panel] has made its decision ", – he said briefly.
President Petro Poroshenko appointed Roman Maidanyk, the head of Faculty of Law of Taras Shevchenko National University, as panel head. There is no public representative among selection panel members. All members are appointed by the President, Parliament or the Cabinet of Ministers.
Tetiana Slipachuk, a lawyer of private company Sayenko Kharenko, who also became panel's member under President's decree, explains: "I knew who I would vote for when I was preparing and looking through lists of candidates. I did not get acquainted with the article (in Ukrayinska Pravda – ed.) and did not make any comparisons. I had another task".
Slipachuk also did not see the problem that the list of actual winners was known before voting.
"I do not see either subjective or objective side of the crime," the lawyer commented to Schemes.
Mykola Palamarchuk, a Member of Parliament of Petro Poroshenko's Bloc faction, who is appointed to the panel by the Verkhovna Rada, said that he had not seen the list the day before and "voted as he considered earlier for himself."
The professor of Taras Shevchenko National University of Kyiv, lawyer Viktor Samokhvalov, who was appointed to the panel under President's decree, was not surprised by the fact that journalists had published a list of winners in advance.
"They could release any list, they could choose who they wanted, you know," he said.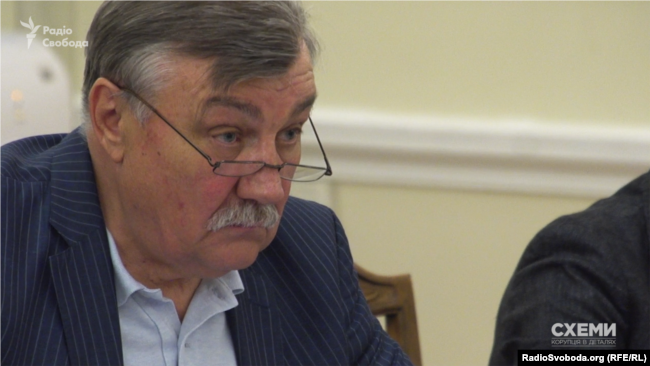 Denys Monastyrskyi, Assistant Professor at Khmelnytskyi University, who was appointed to the panel by the Cabinet of Ministers, commented to Schemes that he had not known about the publication of the list in the media. "What do you mean the list of winners? It has been announced now during the vote," he said and asked journalists to leave the office.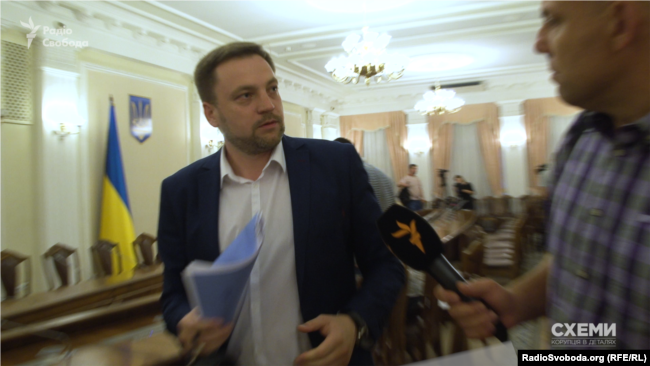 Co-founder of Testing Center and President of International NGO Universal Examination Network Serhii Mudruk does not exclude the fact that the selection panel has been influenced from the outside.
"If they did not discuss their own impressions about each candidate, but just came on the appointed day and time and simply voted. It looks very suspicious. That means that there was some external force that coordinated this result, – suggests Mudruk. – It is very unlikely that there has been no external influence. If this is a coincidence, that means that someone has conducted analytical analysis of heard impressions of his colleagues. If there was no such communication, and everyone had his own opinion…"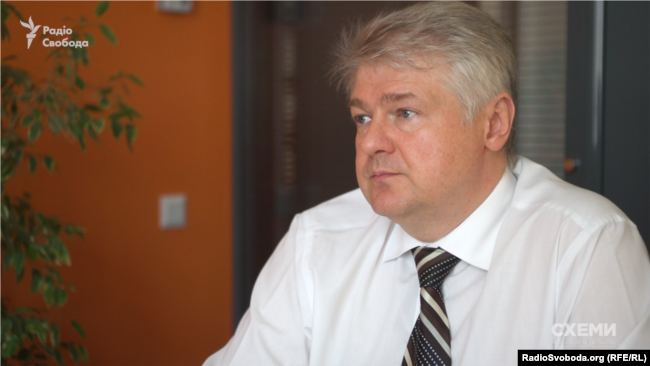 In its turn, Member of Parliament and Member of the panel Palamarchuk assured that the Commission had not discussed candidates before voting. "Why should we discuss something? Each member of the panel has his own opinion," he said.
How did the voting process take place? How winners were determined? What criteria were important? And how seriously did members of the selection panel take their duties?
7 minutes for the interview. No questions about funds
Interviews with winners lasted for around 7-8 minutes. They were not asked about the origin of funds in their declarations. A significant part of this time they were telling something about themselves at their own discretion.
In particular, Yevhen Shevtsov, who works at the National Police, has indicated in his declaration Swiss watch Rolex, car Range Rover, 14 million UAH on bank accounts of his family. According to open source data, his wife's companies are subjects of PGO's investigations regarding fictitious entrepreneurship and money laundering.
However, the panel did not ask him about these funds, they asked whether positions of investigator and detective should be merged.
Shevtsov won the position of the Head of Department of Organization of Pre-trial Investigation of the SBI.
At the same time, according to the regulations of the selection panel, during the interview they should consider not only professional experience and knowledge, but also whether income level of the candidate corresponds his lifestyle.
But panel member Tetiana Slipachuk believes that this is not the authority of the panel: "They will undergo special examination. I think all questions will be asked by competent authorities. I am not a competent authority."
None of panel's members asked future winner Artem Bugayets about his disciplinary punishment. Earlier First Deputy of the Military Prosecutor of Anti-Terrorist Operation Forces sent a statement to the Qualification and Disciplinary Commission of Prosecutors. The statement said that "Bugayets A.V. systematically improperly performed his official duties regarding control of the quality of implementation of procedural management at the pre-trial investigation and trial stage."
Requirements for candidates
According to the regulations of the panel, there are certain qualification requirements and criteria for candidates. For example, they should have "ethical and professional qualities." Among other qualification requirements approved by the Head of the SBI for candidates are mentioned such requirements as "positive reputation", "intellectual and emotional maturity", "leadership" and "reliability".
Test analytic Serhii Mudruk believes that the list of qualification requirements and criteria is not very good.
"What does "intellectual maturity" mean? I cannot understand it. I know only what intellectual abilities mean," he says.
Serhii Mudruk says that reliability can be defined by special psychological test, but the panel cannot not conduct it. The test analytic says that the evaluation procedure must be clearly defined, this is especially important for public competitions. However, there are no evaluation schemes or methodological requirements for panel's evaluation.
Blind voting
Journalists of Schemes found out that those members of the selection panel who were not present at interviews also voted for winners.
For example, a member of the panel Nataliya Sevostyanova (Bernatska), the First Deputy Minister of Justice voted for the Head of the National Police Department Yevhen Shevtsov, who decided to try his hand at SBI leadership. Earlier Sevostyanova was not present at Shevtsov's interview.
Also, MP of Narodnyi Front Yevhen Deydey and Professor Viktor Samokhvalov voted for Shevtsov. They also were not present at the interview.
Similar story happened with other candidates. Serhii Zhytnyk won the position of the Head of SBI department. Two members of the panel who did not run the interview also voted for him, namely the same Deputy Minister of Justice Sevostyanova and Professor Samokhvalov at Taras Shevchenko National University.
Only five members of the Сommission were present at the interview of future winner to the position of the Head of Internal Control Department of SBI Bohdan Chobitok. Another member of the panel – MP Yevhen Deydey (Narodnyi Front) entered the room where interview took place, but immediately went out. During voting, Deydey raised his hand precisely for this candidate. Two other members of the panel who were not present at the interview, namely Sevostyanova and Samokhvalov did the same.
Nataliya Sevostyanova has not got in touch before the broadcasting of Schemy's investigation.
MP Deydey was also absent on interview of another candidate – Volodymyr Kryvolapov, but voted for him. Deydey himself is a subject of investigation of National Anti-Corruption Bureau. NABU believes that he owns few millions more than he could earn.
Schemes asked Deydey whether he planned to refuse to participate in such respected panel.
"We understand that they (NABU – ed.) are doing nothing except PR and populism," – answered Deydey.
Earlier Deydey's colleagues in the Verkhovna Rada did not agree to deprive him of parliamentary immunity. This prevented the continuation of investigation of this case by NABU and its forwarding to the court.
What does it mean when members of the selection panel, who were absent at the interview and were unable to ask questions, vote for these candidates?
Serhii Mudruk, President of International NGO Universal Examination Network, believes that members of the Commission who were absent had to watch the video of the interview. Otherwise, the credibility of the competition may be reduced.
"If a person says: "I was not present at the interview, I did not watch it, I am not interested, but I voted," it means that the person voted not knowing for what. This reduces the credibility of the collegial decision," – summarizes Mudruk.
Two-step verification
Winners of the competition will be approved by the Head of the State Bureau of Investigations Roman Truba. In Schemes interview, he said that he would not figure out why panel voted for candidates by previously published list in the media.
– Should official investigation be conducted? Should the statements be sent to law enforcement agencies? Since winners were known in advance, could be there an impact on the panel?
– Any law enforcement agency has the right to start investigation. At this stage, I am more interested in examination of each candidate.
Winners must undergo special examination before the appointment which was initiated by Truba. There is also a problem: he cannot identify winners. He appealed to Public Control Council to receive opinions on each candidate.
– The external panel only provided last and first names and patronymics. It is extremely difficult for me to identify a person using such information. So, I asked external panel to provide more information.
– You are all located in neighboring offices.
– Yes, I completely agree with you. I asked. I sent a letter and I am waiting for the answer.
"Housing problem" for the SBI
They cannot find the premise for Roman Truba and the new institution which he leads for eight month. Now his office is located in the building of the Cabinet of Ministers, and two Deputy Heads of the SBI go to work to the building of the Prosecutor General's Office. It is the SBI that should investigate criminal proceedings regarding ministers, prosecutors and other officials.
Truba sees no threats for conflict of interests in such a neighbourhoud with potential subjects of investigations.
"The agency cannot be considered established as it does not have premises and material and technical base," he said.
Employees to the State Bureau of Investigations are selected by not only one, but three panels at once. Two more panels work in the building located on Simon Petlyura street in Kyiv. It turned out that this building was under arrest.
Truba reported about this problem to the Ministry of Justice and now is waiting for what he should do next.
Who goes to the SBI?
Panel No. 2 elects to SBI's positions. Its Head is Oleh Shram, advisor to the Head of the SBI.
It is dark in the hall where interviews take place: light bulbs burned down.
Vitaliy Maleh, former Head of Control and Revision department in Zaporizhya, has also waited in the darkness. They asked him about his official income and funds.
– Did you buy Infiniti on your salary?
– My family is wealthy. They helped me.
– What does your family do?
– Business.
– What kind of business?
– Parents are engaged in hotel business and fuel and energy business.
Journalists of Schemes met here a candidate Serhii Khaliev, former Prosecutor and subject of the bribery case.
– How did the story with a bribe worth 45,000 end?
– This story ended when criminal proceeding was closed on rehabilitation grounds.
…
– Were you fired from the Prosecutor's Office before this?
– I resigned in February 2016, the story happened in July 2016.
Unlike the first panel, there is a public representative in the second one. He asked the candidate, former Prosecutor Vasyl Khrushch, about the origin of his funds.
– Could you please explain the nature of acquisition of these land plots by you and members of your family.
– I was offered to buy one land plot, and I bought it. I made it quite attractive… I think that the problem of our country is that "law-enforcement officer must be poor". The main thing is that law-enforcement officer must be honest.
Sometimes candidates were not clearly heard during the interview as there were no microphones. Camera crew of Schemes was not allowed to be present at interviews. The Head of the panel said that this is the decision of the Head of the State Bureau of Investigations, although there is no direct prohibition on this: "There are general provisions that third parties cannot be present during the competition. This order is approved by the SBI with director's signature".
The director of the SBI Truba, on the contrary, says that this is decided by the panel.
"I do not waive myself from responsibility – but it depends on the panel," – answered Truba.
Another third panel is electing investigators. There are two Deputy Heads of the SBI, whose offices are located next to Prosecutor General's Yuriy Lutsenko office. All three commissions still evaluate candidates for different positions to the new agency – the State Bureau of Investigations.
In general, they have to recruit employees for 700 positions.
What's next?
Roman Truba considers that the State Bureau of Investigation will start its work in September. It is August already – and the Bureau still does not have its premises, no key employees are appointed.
In general, the work of main selection panel, which elects leadership, looks very formal. Its members do not want to know why names of the winners of the competition have became known in advance, they vote without visiting interviews, they have no clear criteria for evaluation, they do not ask candidates about the origin of funds and "dark spots" in their biography". Also, there is no public representative in this panel – all members are appointed by the Cabinet of Ministers, the President or the Parliament.
Also, it is not clear why neither the Head of the panel nor the Head of the SBI have intention to initiate investigation regarding the fact of voting by the list that was known in advance.
The State Bureau of Investigation should have become Ukrainian analogue of American FBI or CIA.
Would it be so depends on its Head – Roman Truba.
Would he approve those doubtful candidates after special checks? Would he be more decisive and demanding in order to create a decent team?