On February 2, 2021, Volodymyr Zelensky imposed sanctions on Taras Kozak, Member of Parliament of the OPzZH and right-hand man of Viktor Medvedchuk, and eight legal entities, where he is indicated as a beneficial owner. These companies own three TV channels – ZIK, NewsOne and 112 Ukraine.
Meanwhile, the media learned from sources in the SBU and the NSDC that Taras Kozak's TV channels were funded by from Trading House "Don Coals" LLC ("Торговый дом "Донские угли") from Rostov, which receives income from the coal trade in the occupied territories of Donetsk and Luhansk regions.
The AntAC found that Taras Kozak's connection with the terrorists of the so-called Luhansk People's Republic and Donetsk People's Republic as well as the supply of coal from the territories occupied by Russia has been going on since 2014.
Thus, according to official data, on December 16, 2014, PJSC Centerenergo signed a contract with Arida Global Limited from Hong Kong for the supply of tens of thousands of tons of coal. The coal was supposed to be purchased from South Africa. However, in 2016 Ukrainska Pravda found out that under the guise of South African coal, Arida was selling state-owned power plants the smuggled coal from "DPR / LPR".
On November 5, 2013, Hong Kong's Arida Global Limited signed $8 million loan agreement with the Cypriot company Hakail Limited, the beneficial owner of which was Taras Kozak.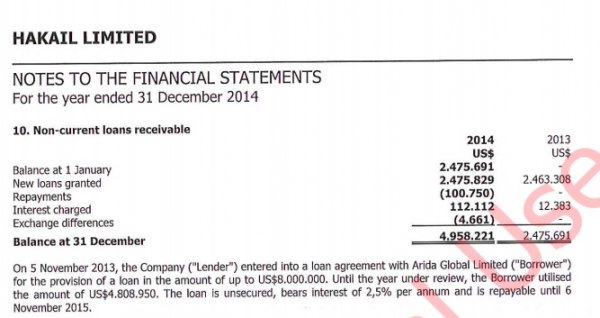 Taras Kozak indicates the beneficial control over Hakail Limited in his annual asset declarations from 2015 till 2019. According to the Cyprus State Register, Hakail Limited has been owned by another Taras Kozak's company, Turul Investments Limited, since 2012.
According to audit reports, under the loan agreement, Arida received $ 7.4 million in loans from Kozak's Cypriot company in 2014 and 2015. The loan was provided at 2.5% per annum and was not insured with any collateral and should have been repaid by November 6, 2015. At the same time, Arida Global Limited did not repay the borrowed funds, Taras Kozak's Cypriot company wrote off this debt.

Thus, the Hong Kong company Arida Global Limited, which according to journalists supplied smuggled coal to Ukraine from the occupied territories, in 2014-2015 received non-refundable multimillion-dollar funding from the Cypriot company of Taras Kozak.