Investigative programm: "Schemes: Corruption in details" (joint project of the Radio Liberty and TV channel UA: First) found out that Victor Medvedchuk's wife, TV presenter Oksana Marchenko, is developing Gavrykivske oil deposit in Russia.
«Radio Free Europe/Radio Liberty»
New political season means new challenges. Viktor Medvedchuk, leader of the pro-Russian "Ukrainian Choice" movement and godfather of the President of Russia Vladimir Putin, decided to go back to public politics. He joined Vadym Rabinovych's party "For life" for participating in upcoming elections to Ukraine's Parliament.  We should be mindful of risks of strengthening the positions of pro-Russian forces in Ukraine after annexation of Crimea, during Russia's ongoing military aggression against Ukraine. Thus,  it makes sense to deep into their relationships more thoroughly and explore their financial flows. There is a lot that we know about business of Viktor Medvedchuk in Ukraine. However,  it appears that family of Putin's godfather has business in Russia as well. Moreover, it was founded not a long time ago, in 2014. "Schemes: corruption in details" revealed Medvedchuks' couple had managed to outcompete key players in Russian oil and gas market and received access to one of three largest oil and gas deposits in the Russian Federation, whose reserves are estimated at tens of millions of tons.
Oksana Marchenko is known to Ukrainians as TV-presenter of projects X-Factor, Ukraine's Got Talent and Time To Build. Some people even recall her personal show of the early 2000's. Nowadays, she is one of the most scandalous participants of the TV project "Dancing with the Stars".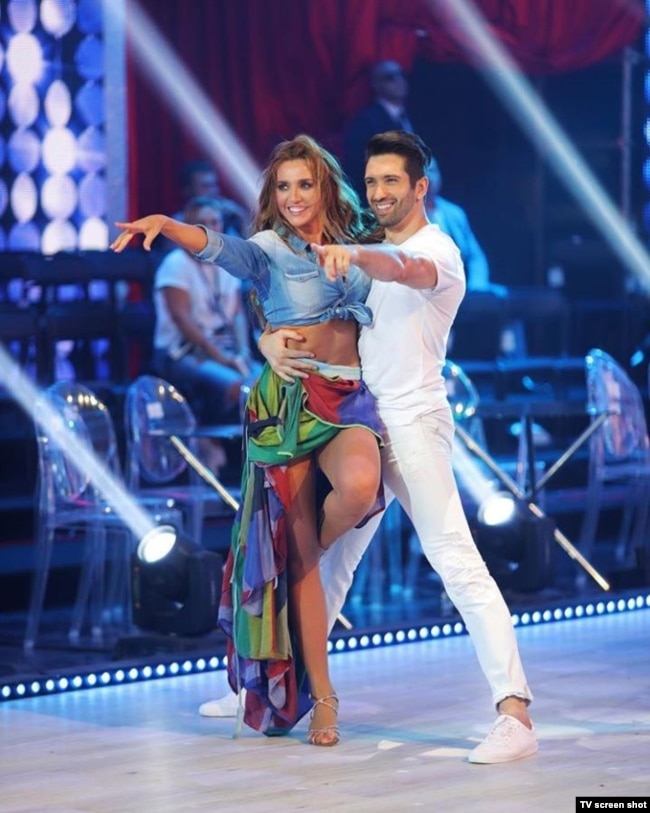 Participation of Viktor Medvedchuk's wife Oksana Marchenko in the dance show is accompanied by real scandal.
Marchenko is also the wife of the leader of pro-Russian Ukrainian Choice movement, Viktor Medvedchuk, who does not consider Russia as the aggressor. She is crony of the President of Russia Vladimir Putin and wife of Russian Prime Minister Dmytro Medvedev, who stand as godparents of her daughter, Daryna. However, some people consider it inappropriate to politicize Marchenko: because wife is not responsible for her husband just like son is not responsible for his father. But the fact that was found by "Schemes" proves that Viktor Medvedchuk is much weaker player, comparing to his wife Oksana Marchenko.
At the end of July, Victor Medvedchuk's return to public politics has come to attention. He joined Vadym Rabinovych's party "For Life" and intends to participate in the upcoming parliamentary elections.
References to him have appeared more frequently in releases of Ukrainian TV channels. As "Schemes" told before, management, which is close to political power of Medvedchuk, is going to run one of channels.
Significant investments  are needed for such large-scale information political campaign. It will take even more money in a year, before the elections.
Where will Putin's godfather get all this money? In the interview with Deutsche Welle as of April 2018, Viktor Medvedchuk, stated he did not have financial difficulties  because he "has been a businessman for a long time".
However, when the extract of the Register of the Ministry of Justice have been reviewed by "Schemes", they revealed Viktor Medvedchuk has almost no business in Ukraine. There is only one commercial company Forpostinvest LLC, through which the politician provides business consulting. The other companies belonging to  Viktor Medvedchuk are related with public activity: he is a co-founder of NGO "Union of Attorneys of Ukraine" and the head of NGO "Ukrainian Choice – The Right of People".
But if you look for Oksana Marchenko's business, the Register shows other results. The Ukrainian TV star is a founder, ultimate beneficiary or owner of substantial part of at least ten companies, which are related to real estate and construction, finance, agriculture, forestry, engineering surveys, and media work.
And what about a real estate located in Yalta, Crimea, where Viktor Medvedchuk and Oksana Marchenko met their daughter's godfather, the President of Russia Vladimir Putin in 2012? Before the annexation of Crimea, the company Terra-Invest was an owner of  it, beneficiary of which was Oksana Marchenko. Have they already re-registered this estate to related Russian company?
"Schemes" journalists have carefully examined Russian Register of legal entities. It turned out that Oksana Marchenko's business life is developing both in Russia and annexed Crimea. From 2015 to 2016, three Ukrainian companies, where an ultimate beneficiary is the participant of "Dancing with the Stars", became co-founders of TAVRIA-INVEST LLC, registered in March 2015 in Yalta according to Russian legislation.
It seems that this company was actually set up  to manage Crimea's property after the annexation. But Schemes paid attention to one more thing: TAVRIA-INVEST LLC has joint director Inna Paliy with the company with similar name IC TAVRIA SEVER LLC in Moscow. But the company's owners are obscured by the Cyprus companies: first, VENTOLOR INVESTMENTS LTD, then VENTOLOR HOLDING LTD.
Why did Cypriots decide to hire the same director in Russia as Vladimir Putin crony's company? Moreover, they gave it the similar name TAVRIA SEVER? What are these Cypriots doing there? "Schemes" found the answer in Khanty-Mansi Autonomous Okrug of Russia.
Gavrykivske deposit
In 2015, Russian authorities announced a  competition for the right to extract oil in one of the three largest deposits of Khanty-Mansi Autonomous Okrug – Gavrykivske. Its reserves were estimated at over 40 million tons. This competition immediately became scandalous through the strange requirement for participants: "The winner of competition is obliged to process hydrocarbon raw materials, obtained from Gavrykivske deposit, at Russian oil refineries with high processing depth, which ensure timely modernization of production, have sufficient production capacity, and at enterprises located in Rostov region", – Russian media quoted the conditions.
That means that only those companies, having oil refineries in Rostov region, could win the competition. Due to these discriminatory conditions, as  "Russian Kommersant" wrote, the state giant Rosneft even tried to sue them, but later for unknown reasons withdrew its application for the deposit.
Participants have been struk by that situation since the Chairman of Rosneft Board was Ihor Sechin, who has been working with Putin since late 80's. There is even a video of how they move from St. Petersburg to Moscow together. The Forbes magazine named Sechin second most powerful person in Russia after Putin. It just seems weird for Rosneft to complain about discriminatory oil deposit competition conditions. Is Rosneft discriminated?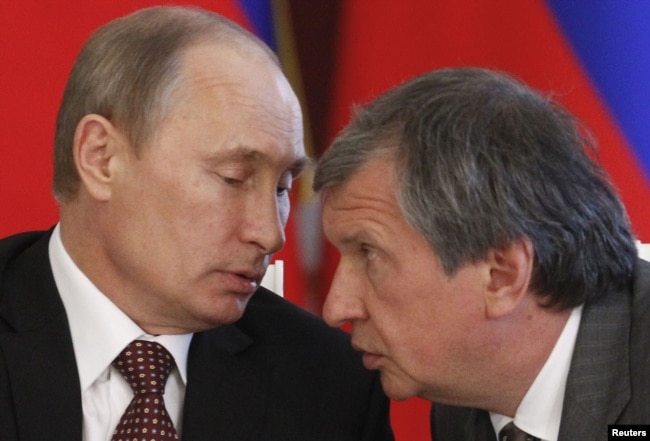 Vladimir Putin and Ihor Sechin
NZNP Trade company won this strange competition. Russian media relates it to the group of companies Yug Rusi, that owns oil refinery plant in Rostov region – Novoshakhtynskyi oil refinery plant. It is unlikely that someone else could win the competition, because there are no other oil refinery plants in Rostov region apart from Novoshakhtynskyi.
For the group of companies Yug Rusi and its head, businessman Serhii Kyslov, who personally opened Novoshakhtynskyi plant, refining becomes the new direction for his group of companies Yug Rusi, which specialized mainly on growing sunflowers and oil production.
UPECO analyst Oleksandr Sirenko told that the new oil direction did not become successful and worked according to "gray schemes": "By the war time, before 2014, we received signals that diesel fuel, produced at Novoshakhtynskyi NZP, which, by the way, was not of the good quality, was illegally transferred via the border between Russia and Ukraine".
Journalists did not consider Russian businessman Serhii Kyslov as the person for whom special conditions for the development of Gavrykivske deposit were written. He is not the person for whom Rosneft, headed by Ihor Sechin, could be pushed aside. Therefore, "Schemes", closely analyzing activities of NZNP Trade, noticed two things: NZNP Trade started to equip the deposit and buy equipment for it only this year, although the competition was held three years ago.  It happened after NZNP Trade changed the ownership structure.
32 percent of the company belongs to Dol LLC, which is controlled by Vasyl Kyslov, the father of agrarian businessman Serhii Kyslov. The share of 14.9% and 3% are owned by Natalya Lavrenyuk and company Development. However, Cyprus Ventolor Holding LTD, which, according to the Cypriot register, changed the owner on December 13, 2017, have a major share of 50.1 % to play.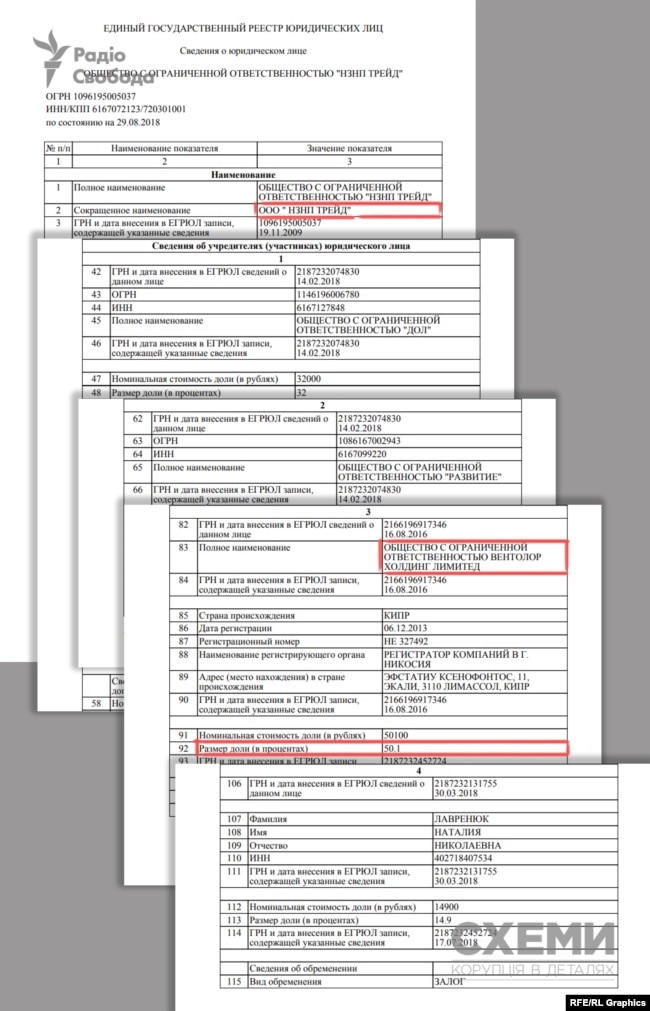 Unified State Register of Legal Entities
For better understanding whole chain, you need to go back to schemes and companies which belong to TV star Oksana Marchenko in Russia. So "Schemes" found out that: unknown Cypriots hired to their company the same director, as the company of Vladimir Putin's crony, with the similar name to the first one. Furthermore, if you add here NZNP Trade's scheme of ownership, you will  see that those people, who control more than 50 percent of the company and who will produce oil at Gavrykivske deposit, are the same Cyprus company.
If we dosclose the property structure of VENTOLOR HOLDING LTD, it turns out its founder is another Cyprus company – TUMILLON INVESTMENTS LTD.
Thus, Oksana Marchenko is the sole owner of Cyprus company TUMILLON INVESTMENTS LTD.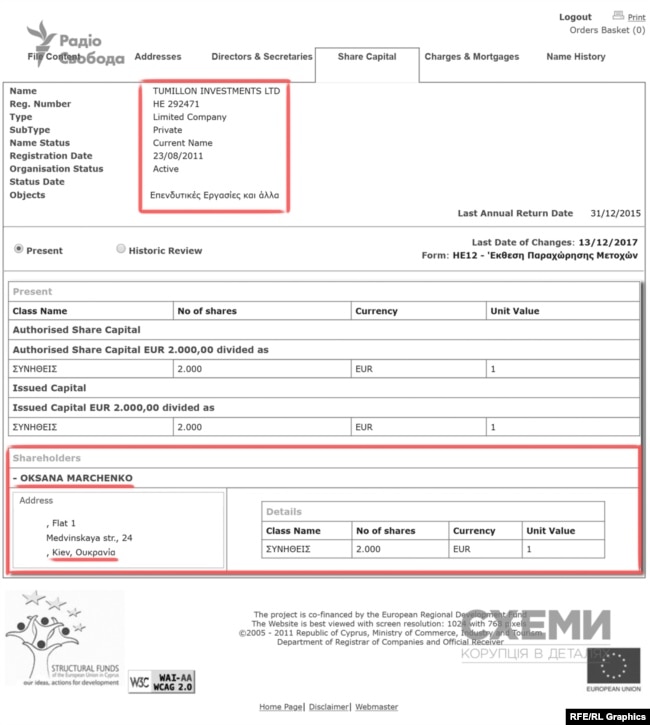 This company owns 100 percent of VENTOLOR HOLDING LTD , which owns 50.1 percent of NZNP Trade and will produce oil in Russia.
In addition, Marchenko's Cyprus companies also own a share in Trading House company, specializing in oil products trade.
Moreover, the potential market for oil products that will be extracted at Gavrykivske deposit and will be processed in Rostov region, is a part of occupied areas of  Luhansk and Donetsk regions (ORDLO). Some Russian experts express such opinion. Ukrainian expert, analyst of UPECO, agrees with it.
Oleksandr Sirenko: "There is no strict control on Ukrainian side … there is no customs or tax service, it is impossible to track volumes and prices. It opened the pandora box for entrepreneurs or businessmen".
"Schemes" sent the request to Novoshakhtynsk Oil Products Plant with the question on potential customers, but at the time of publication we have not received the answer.
Oksana Marchenko and Viktor Medvedchuk also have received written questions from "Schemes" and they have not as well responded yet.
Can we consider Marchenko just the Ukrainian TV star? Can we assume that TV presenter, blogger, and participant of "Dancing with the Stars" has the talent of real oil trader, and during the break between TV projects, she has decided to extract oil from Gavrykivske deposit in Khanty Mansi Autonomous Okrug? Or should we remind who her husband is? And who is the godfather?  We can just guess to whom this business actually belongs, as well as which political force will it work for.